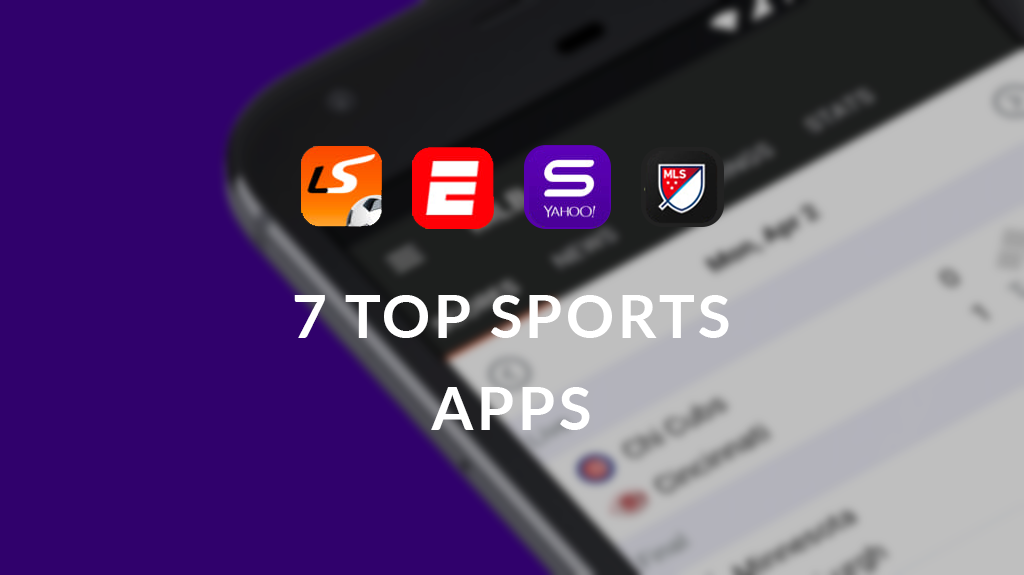 The 7 best sports app keeps fans fully updated all off-season long, with breaking sports news, highlights, stats & more.
Whether you are a handball, football or a cricket fan, rowing, soccer or tennis lover, there are bunch sports apps available on App Store and Play Store Market to keep the fans updated. Sports app development world offers you the latest news, match schedules, photos, videos, and statistics with just a tap on your smartphone. This is, well, a much simpler method to get your chosen teams and players, rather than sitting at home to watch TV each time.
This comprehensive list includes the 7 top sports apps for Android & iOS to download for sports fans, scores & results, no matter which leagues you follow.
1. NFL Mobile
There's no better app than the official NFL app if you are looking for everything related to NFL – National Football League. The NFL app provides its users with live scores, breaking news, videos, pictures and so much more.
Users can get special access to all 32 teams and watch elite live content which incorporates the regular-season games, the Pro & Super Bowl, playoffs, and the NFL Network.
2. ESPN
ESPN is the latest sports news app that brings clients the most recent and breaking news around the globe. Users can get customized sports information about their favorite players and teams just by opting a list of teams they prefer.
ESPN offers paid monthly subscription services that enable you to stream live videos on your mobile phone. The application offers a wide range of information from sports insights, breaking stories, and expert analyses on teams and leagues.
3. Yahoo Sports
Yahoo Sports is a free sports app for Android & iOS that gives you quick info related to sports. A user can also watch MLB and NHL games live, without any subscription. The sports updates and information includes news, events, scores, statistics, and so on.
Yahoo Sports app comes with a score of highlights like reading sports stories that are written by sports enthusiasts and analyst. If you sign in with your Yahoo account, you can synchronize your settings with mobile gadgets so that you get a similar experience.
4. BBC Sport
BBC is one of the most reputable news services in the world and their sports app is not an exception. The app helps users to stay in touch with the latest news from the universe of sports.
It is important to mention that BBC sport will be interesting to those who are fond of traditional British sports like soccer, rugby, field hockey, cricket, etc. However, the BBC app offers an extensive selection of content related to almost all sports that users might like.
The overall layout of the app is very clean and intuitive. BBC provides an ability to set notifications for topics, sports or teams you are interested in. You can also set a reminder for any upcoming events or phenomenon, so you don't miss anything.
Available on iOS App and Android
5. Bleacher Report
The Bleacher Report mobile app lets you stay updated with the recent on your preferred teams or athletes scores. Like other apps, it enables you to choose your preferred teams so that you get the updates of only those teams or athletes that matter to you.
Based on the choices that users make, the app gives proper, real-time notifications, gathered from several online sources. These sources offer users the sports stories, match scores, photos, and related videos that include the latest breaking news in sports from print media, blogs, and web portals.
6. MLS
MLS is an official app for Live Soccer Scores and sports results. It presents to you the most recent news, live scores, match schedules, standings, and on-demand video features. Users can look at the photos, videos, game scores, and starting lineups for the league games.
The personalization feature helps you follow your favorite teams or players. And the app also offers other significant features that are usually found in paid sports apps like the video of important plays shown before or after the complete game highlights.
7. LiveScore
Since 1998, LiveScore has been providing real-time game scores. This app includes scores for basketball, football, tennis, rowing, soccer, and hockey. But, currently, the app doesn't involve baseball scores through the app.
The LiveScore app is quick in focusing on scores and standings instead of analyzing the game or the player in-depth. It offers results as well as scores for various teams in a simple and comprehensive way. You can pick your favorite sports so that when the app starts you'll get the updates related to your favored sports.
Are You Interested In Developing Sports Mobile Apps?
Dunrite Tech is a popular mobile app development company in florida with extensive experience in developing great apps for sports, games & entertainment companies.
We helped our client deliver Live TV mobile experience with user-friendly & additional features like sports highlight, scores, and match schedules to EPL fans via an iPad application.