Web Development is an art and extremely well-rounded program that prepares you for a number of careers.
Creating a software application isn't that easy. There are a ton of things to consider. The more you actually create, the more you'll learn.
And since there are many developers out there who share their experience, it's a hard game to follow all of them. Because of this, we gathered the following blogs and present you a list of 11 best web development blogs worth reading.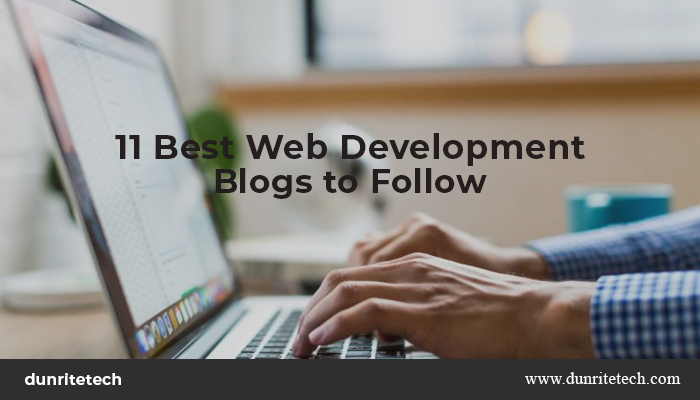 In order to stay up-to-date on the latest web development trends, we put our heads together and curated this list of what we believe are the 11 best web development blogs you should be followed right now.
1. SitePoint
SitePoint is a learning hub for developers, designers, marketers, programmers, product creators, entrepreneurs managed by web professionals. There you may learn React js, Angular, Bootstrap, Node.js, JavaScript, Blockchain, Machine Learning, and Ethereum, Advanced CSS — the list goes on and on.
2. WebResourcesDepot
WebResourcesDepot is a great web development blog offering new posts each day. Developers will definitely find some great content here. It's definitely a web development blog to follow.
3. Codrops
If you are a front-end web developer or designer, you'll find a lot of useful tutorials, CSS reference, a web development experiment playground, code snippets and blueprints to begin from on Codrops. Codrops also discuss more general topics of web design & development.
4. OnextraPixel
I guess OXP is more a web design blog rather than a web development blog. All things considered, it provides some really useful articles in the field of development too. Whether it's an article about some useful HTML5 tips and tricks or a new jQuery library. You'll definitely get some inspiring content.
5. CodeCondo
CodeCondo is an aspirant community both for developers, designers. It intends to discover, gather, as well as share valuable news, tutorials, tips, resources, and tools, on design, web development, and other inspirational topics.
6. Six Revisions
Six revisions are one of the best classical and complete web development tool. With the regular updates provided by the Six Revisions, web developers, designers get new insights.
7. Smashing Magazine
Smashing Magazine is another notable news site, which cannot be overlooked. With new articles every other day it offers you great resources about HTML, CSS, SQL, JavaScript-related topics.
8. Coding Horror
Coding Horror is a massive blog resource from Jeff Atwood. It offers great insights into the development of software engineering. You'll get heaps of great tips and resources from Jeff sharing his experiences.
9. Tuts+ Code
Tuts+ Code is a perfect learning core with How-To tutorials, 1220+ courses, and many eBooks on a wide range of topics: design & illustration, coding, web design, photo & video, business, music & audio, 3D & motion graphics, IoT & game development.
10. Scotch.io
Scotch.io is an aspiring site publishing articles, tutorials, videos about AngularJS, Node, Python, Bootstrap and significantly more. It's a place to go to in case you are looking for some new inspirational content or development resources.
11. David Walsh Blog
A blog by David Walsh, a web developer, and software engineer. He writes about HTML5 & CSS, jQuery, PHP, .Net, WordPress, SEO, JavaScript and more. You'll find great articles about CSS, jQuery, JavaScript, PHP, MySQL and much more. Make sure to check out his web development blog.
Below check out our Resource Page for the latest blogs, news, articles, and updates..
Which web development blogs are you reading? Share your resources in the comments!